These Tools Will Promote Your Products While You Sleep
When you first launched your product, you probably noticed that a lot of the time is spent out in the field making 1:1 connections with your audience.
Once you start to grow, it's harder to maintain these 1:1 relationships with everyone. At this point, it's time to delegate some of the repetitive tasks to one of these tools.
What will you learn?
Today you will learn how to:
Schedule and automate sharing of social updates on Facebook, Twitter, G+ and Pinterest;
Schedule and automatically publish your blog posts;
Encourage your customers to spread the word about your products by giving them a discount for sharing your product on Twitter and Facebook;
Make dozens of influencers in your niche tweet about your new product launch (at the same time and automatically);
Make multiple web-based services play nice together using IFTTT.
Buffer is a tool that helps you schedule posts for publishing on social media.
With Buffer, you can write all your posts at one time (like Monday) and Buffer will spread them out throughout the week, so you don't have to do this every day.
It will also shorten all the links you choose to include in your social media updates, making it possible to track clicks and reader engagement with your content.
And finally, Buffer has it's own tool Daily that helps you to choose content to share with your audience, in case you are not sure what to add to your social sharing queue.
CoSchedule is a social media and blog editorial calendar for WordPress. It makes planning your blog post publication schedule and it's accompanying social media updates so much easier. And it displays all the past and future posts in a handy calendar format.
Some advanced features include re-sharing old blog posts, collaborating with multiple team members, and assigning tasks. This can be useful if you want to let your designer or editor know that you need some new featured image for your post or need your post to be proofread.
Social discounts have been proven to be highly effective tool in both attracting more customers, improving brand awareness and building your audience. Once you have social discounts enabled, your buyers will receive a discount every time they spread the word about your product on social networks.
It's also a much better way to give your products away of free, if you're willing to build your audience like this. Every user will have to provide his email address where the download link will be sent. This makes it possible to market premium products to this email list later on.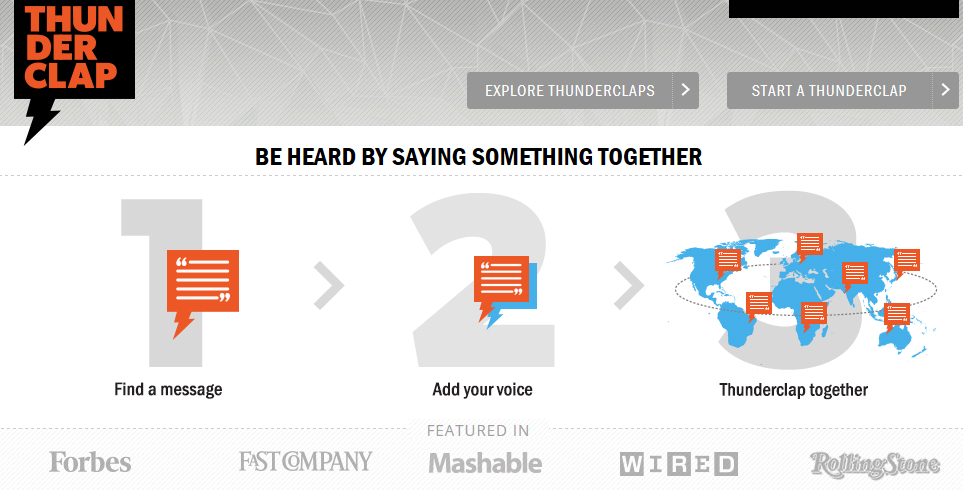 Thunderclap is a tool that helps you to reinforce your message by saying it together with your friends. When you join Thunderclap, you and others will share the same message at the same time.
This makes sharing the news about your product launch so much easier, spreading it like wildfire through Facebook, Twitter and Tumblr at the very same time. Your product is now impossible to ignore.
"IFTTT is a web-based service that allows users to create chains of simple conditional statements, called "recipes", which are triggered based on changes to other web services such as Gmail, Facebook, Instagram, and Craigslist."
IFTTT (If This Then That) is a service that allows you to connect a number of online tools and services together. This way, every time something happens in service A, the recipe is triggered and IFTTT performs your specified task in service B.
It's quite useful if you want to automatically add a user that has favourited or mentioned you to a Twitter list. Or post a tweet every time a new sale is made. Some people use it to spy on their competitors, you can do it too, if that's your thing.
Over to You
No amount of marketing automation will ever replace the power of human interaction. You should always keep in touch with your audience and never solely rely on the automatic tools, or risk being labeled as spammer. But in the right hands, these tools can be a powerful addition to any creator's marketing toolbox.
Did you find any of these tips helpful? Do you have experience with these tools? Do you know some other tools that can help creators automate their promotion efforts? Let me know in the comments section below.